I CANNOT LOOK AWAY
THIS AMUSES ME
(Source: redsuspenders)
»
10 Mind-Boggling Foreign Soda Flavors (via MTV)
"Dr. Brown's Cel-Ray is about as odd a soda as you'll see in the United States. Celery flavored soda? Well, as weird as this flavor may sound, we Americans are milquetoast when it comes to bizarre sodas. Foreigners—in addition to eating weird foods like prawn cocktail potato "crisps" and monkey hearts—love chugging fizzy beverages that taste like everything from garlic to eel and even cannabis."
For what it's worth, Mrs SodaBlog loves Manzanita Sol. Personally, I'd rather drink apple juice. I've already made my position clear on Cel-Ray…but Cannabis Tea? Swiss people: hook a brother up.
»
Brownsville & The Big Kahn— two graphic novels for the price of one!
This Fall, the good people at NBM Publishing have decided to band together my original graphic novels, BROWNSVILLE (with Jake Allen) and THE BIG KAHN (with Nicolas Cinquegrani), and offer them for a combined low price of $25 under the name "Jewish in America" (the name wasn't exactly my choice…). While you're waiting for my next original graphic novel, AMERICAN CAESAR, here's a great deal to discover (or rediscover) two books into which I really poured my heart and soul — BROWNSVILLE is a book about my passion and fascination for true crime/mob history, and KAHN is a book about my personal crisis of faith and questions about family and religion. If you haven't read the books yet, or if you were waiting for a chance to own them or gift them to a friend (or enemy) at a reduced price…well, here it is.
Slightly edited from the solicitation:
JEWISH IN AMERICA: A SET OF GRAPHIC NOVELS BY NEIL KLEID
ART BY JAKE ALLEN AND NICOLAS CINQUEGRANI
Rising star and award-winning comics writer Neil Kleid explores two aspects of being Jewish in America in this banded set of his two highly praised graphic novels: Brownsville and The Big Kahn.
Specially priced!
6x9, 390pp., banded set of two B&W trade pbs., $24.99, ISBN 9781561637003 
ABOUT THE BOOKS:
BROWNSVILLE
In the 1930's, life in Brooklyn was murder. Follow the intertwined lives of Jewish gangsters Allie Tanennbaum, Abe Reles and scores of hoods organized by Louis Lepke Buchalter into the deadliest hit operation in Mafia history, "Murder, Inc.", as they escape the mean streets and lonely tenements of East New York., make themselves into the most dangerous men in America, only to eventually send their best friends and closest allies up the river.
THE BIG KAHN
Rabbi David Kahn has lived a forty-year lie: he is not, nor has he ever been, Jewish. When at his funeral, the rabbi s grifter brother reveals the truth, it forces the Kahn family to struggle with grief and betrayal as their congregation examines their every move and question their very faith. A sequential drama about loss, lies, belief and renewal, this dramatic graphic explores a family secret so well-hidden, even the family didn't know about it until it was too late.
Also available for digital download on Comixology.
Thanks for having a look and supporting my work.
- Neil
»
Topps BUNTCAST: Topps BUNT launches version 1.02
So we updated Topps BUNT for you, and me, since I wouldn't stop complaining until we added custom leaderboards and some other features. Welcome, version 1.02.

Leave behind 1.01 like I left Jackson for the big city, and never go back.

We've got great stuff for you - seriously, I'm not…
(Source: bunt.topps.com)
Topps Pennant: Every team. Every game. Every play. 1952 to today.
A quick departure from soda for a day job thing…as some of you may know, I've been digitally designing at Topps (yes, the trading card company—baseball cards, Garbage Pail Kids and all that comes with it) and we've released a cool app to the iOS App Store, Topps Pennant.

If you're a non-traditional baseball fan (or a diehard) and you dig awesome graphic design/infographics, Topps Pennant will get you excited about baseball. While I didn't build the app, I had a hand in creating elements and designed all the core marketing pieces. Please install onto your iOS device (if you buy for iPad you get the iPhone version and vice versa), rate it 5 stars and if you dig it, give it a glowing review.

Topps Pennant is the only app that captures over 60 years of Major League Baseball. Every team, season, game and play from last night's games back to 1952—over 115,000 games and counting brought to life in elegant, interactive infographics. As a graphic designer, I fell in love with it from day one and it's something you need to get your hands around to enjoy. Ever wonder how your favorite team did on the day you were born? You can chart a team's performance, how it stacked up in the league from now back to '52, or check out box scores from last night's games. Topps Pennant is an art object, a history lesson and a fun way to debate baseball moments for anyone who's ever attended a game. You can find it here.

Also, make sure to check out the landing page I've designed. View it here.
On April 30, 1997, Mark McGwire took the term home run blast to another level when he hit a monster shot at Jacobs Field in Cleveland. 

According to reports, the homer would have traveled 533 feet if it was not impeded by the stadium itself.

Oakland won the game, 11-9, and Jason Giambi scored on the two-run McGwire homer.

To have an inside look at baseball history, check out the new Topps Pennant app today.

-Chris R. Vaccaro
So, I'm a big MAD MEN fan. Like, kids could be crying and I don't care because it's 10pm on Sunday night kind of fan. I watch it religiously, and though I'm fascinated by the relationships and cultural divides, I honestly dig the moments that center around work inside the halls of Sterling Cooper Draper Pryce. Even more so when said client Don Draper and team are pitching happens to be a purveyor of fine soft drinks like the good people at Pepsico who make Mountain Dew, one of my five favorite food groups. I truly dig on the Dew, and was thrilled to find that there's a cocktail involving Dew and vodka—an "emergency," really, according to SCDP's Peggy Olson, as a cocktail requires three ingredients—"invented" by now-canned…ah, redundant artist, Joey Baird:
Mountain Dew, of course, hasn't been the only soft drink pitched by SCDP—in season three, outed art director Sal Romano directed a commercial for Patio Cola that took it's cues from Ann Margret's title song in the film Bye Bye Birdie. Despite my ignorance, it turns out that Pepsi did create a drink named Patio in 1963— a sugar free cola targeted to diabetics until Pepsi found a better target: women, hoping they'd buy the drink in order to stay trim.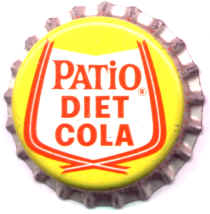 Patio was created in response to Diet Rite, one of the first diet drinks, in flavors of orange, grape and root beer. in 1964, Pepsi rebranded the cola with a more company-conscious name—Diet Pepsi—and discontinued all non-cola flavors by the '70s.
»
Soda Doesn't Pay: Man faces up to five years for stealing $1 soda
"The manager confronted Abaire and asked him to pay for the $1 soda. Abaire apparently refused. He then reportedly cursed at the manager and refused to leave when asked to do so, according to the Naples News, which reviewed the arrest report.
Abaire, who is unemployed, has a history of minor petty theft convictions. That history led law enforcement officers to ratchet the case up from a misdemeanor to a felony.
And in tough-on-crime Florida, this category of felonies carries a prison sentence of up to five years along with a $5,000 fine. The suspect faces additional charges of trespassing and disorderly intoxication."
— from The L.A. Times

AND WE'RE BACK.
Having neglected this tumblog for far too long due to life's little obstacles, I'm determined to begin posting about all things soft drink once again. I'll have a proper post up here today or tomorrow, but in the meantime check out this video that appeared on Chowhound about John Galco's Soda Pop Stop, which the article calls "the ultimate soda-lover's destination. About 500 pops line the shelves, sourced lovingly by John from around the world…his mission to keep small soda-makers afloat and help them find their consumers."  Well, John, after checking out the site and seeing you have original glass-bottled Faygo Rock N' Rye, you've found a consumer in me.
»
How to Shake a Can of Soda and Keep it from Exploding
Great little science experiment here to dazzle and delight your friends and neighbors, teaching you how to toss a can of soda in the air, tap it several times and open it without losing carbonation or your shirt.
Although, it's interesting to note that it doesn't work on diet sodas—my primary drinks of choice—because "…some scientists speculate that diet sodas contain more carbon dioxide gas while others believe that there is a unique interaction that goes on between the artificial sweetener, the preservatives, and the carbonated water. No one fully understands the reason. So, if you choose to shake up a can of diet soda… well, you're on your own."
ON YOUR OWN INDEED.
I know I haven't been posting much, but we're gonna change all that in 2012. SodaBlog Rides Again! In the meantime, enjoy your holidays!
New York Comic-Con
So, as many of you know this weekend brings the New York Comic-Con back to the Jacob Javits Center here in NYC, and I'll be attending for one day only due to religious commitments.
So, if you're going to be at the show, please swing by the Archaia Studios booth (#1546) from 10am-12pm where I'll be signing copies of FRAGGLE ROCK, VOL.1 in which Fernando Pinto and I present the short story, "The Convincing of Convincing John." It's an origin story of sorts, and loads of fun (it's a song!) and I urge you to pick up the book for some amazing entries by comic luminaries and pals o' mine.
This is my only real signing or appearance at the show—I'll be wandering the rest of the day, talking and meeting—so if you want me to sign this or anything else I've done, including the 2011 SUPERMAN 80 PAGE GIANT, BROWNSVILLE, THE BIG KAHN, YIDDISHKEIT or more, that's the time to find me.
Looking forward to seeing you there. Viva comix!
The first page of DINERTOWN, a Zuda submission that URSA MINORS artist Fernando Pinto and I were toying with before the site went down.
Here's a later page. Yep—REAL STEEL done the right way.
Pepsi Pink? Is this the answer to Dr Pepper Ten?!
…probably not.
Yesterday, my buddy @AkiYanagi informed me of the release of the new limited edition Pumpkin Cheesecake KitKat over in Japan, available this month in honor of Halloween…

But then he decides to take things to the next level and sends a link to the upcoming Pepsi Pink, a new flavor of cola that's being released over there in November… strawberry milk flavored cola?!?!

No thanks.
« Previous
1
2
3
4
5
6
7
8
9
Next »